Iconic chic guestroom for your stay in Bangkok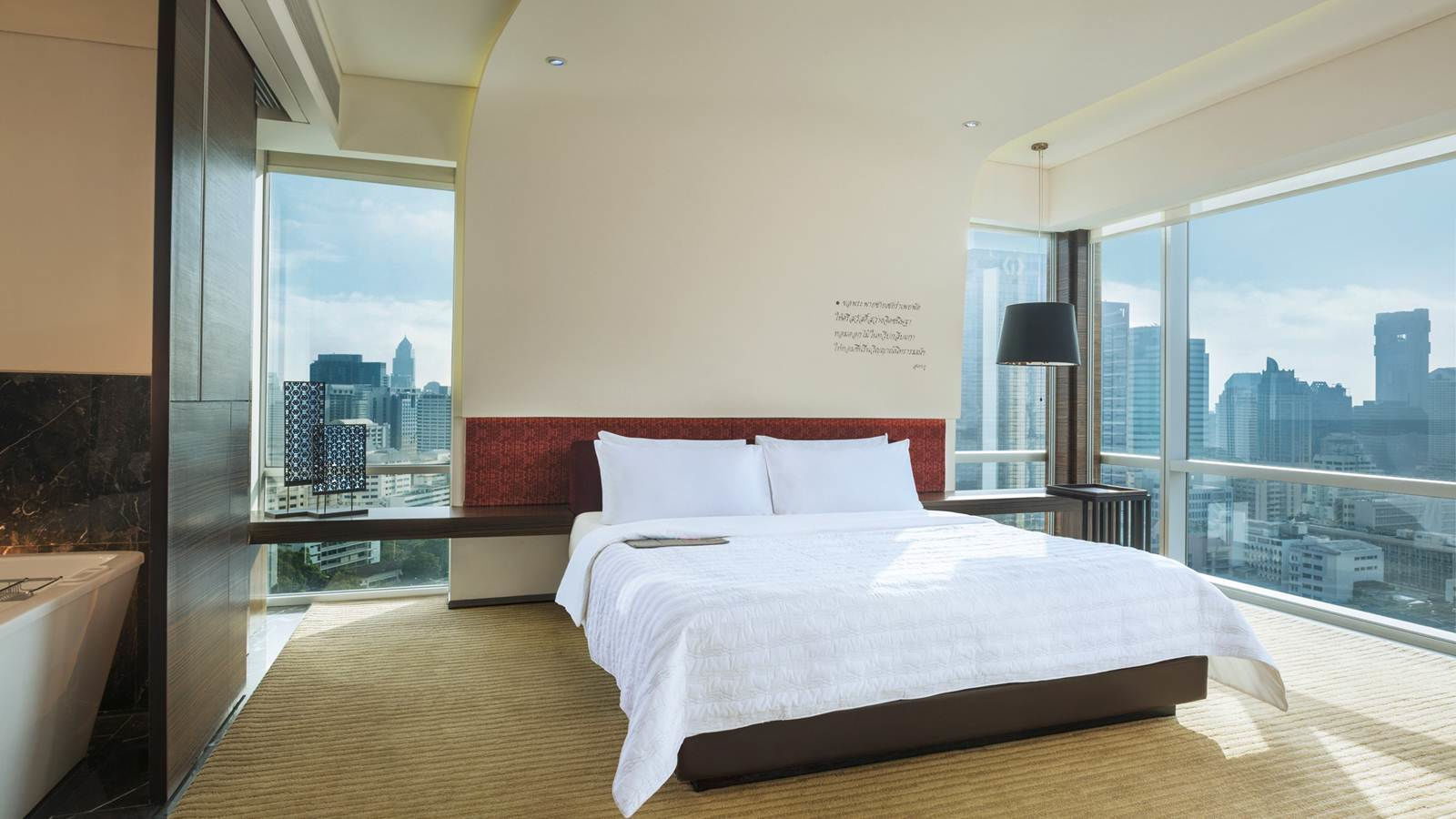 Enjoy luxury accommodation at Le Méridien Bangkok Hotel where every guestroom is modernly decorated and infused with the essence of Thai through unique poetry on every bedside. Explore a view of Bangkok's cityscape from floor-to-ceiling windows and indulge in our exceptional oversized bathtub.
Discover a unique 165 sqm Grande Avantgarde Suite with a private living room area capped by a 6-metre high ceiling, adding to the multi-dimensional view of Bangkok.
The Avantec Suite adds a sound system for a more pleasurable listening experience and a coffee machine for an on-call cup of gourmet brew. Floor-to-ceiling windows invite plenty of sunlight, and a sunken tub places guests behind a sleek sliding door that opens to the suite's entertainment system. The bathroom also features two basins to provide the ease of extra space, plus a rain shower for meditative serenity.
Occupying Le Méridien Bangkok's 22nd floor, our romantic Circular Room centres on a round signature bed, from where the space expands to include full-window walls that provide a broader perspective of the surrounding city. The iconic bed fosters fantastic meanderings of the imagination as well as added intimacy.
The spacious bathroom is furnished with sliding doors to separate the generously-sized bathtub from the main room. A Japanese-style bidet/washlet is also provided.Vista Executive Room guests enjoy the hotel's signature breakfast buffet, an open bar from 5:30pm to 7:30pm, and the pressing of two garments upon arrival.
The Vista Plus corner rooms open to a striking 90-degree view of Bangkok, inviting guests to explore the city scene below and offering the latest technology and five-star amenities. These rooms are located away from the hotel's lifts for the ultimate peace and privacy. Vivid red highlights against a subtle neutral palette welcome pleasurable tranquility in these light-filled rooms, where guests can bathe and chat with the sliding doors open between tub and bedroom.
Our attractive Vista rooms , located on floors 8 through 24 of the hotel, feature contemporary design with minimalist red highlights against contemplative neutrals, plus floor-to-ceiling windows with full city views. The spacious bathroom is furnished with sliding doors to separate the generously-sized bathtub from the main room as well as a chic marble toilet.